Audace - Brut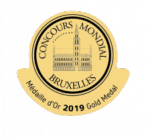 The cuvée Audace is dressed with a bright yellow colour.
Its nose is expressive and purely open when mature. It is first characterized by white fruits (nectarine) and quickly reveals a basket of yellow fruits (mirabelle, peach).
Its attack is supple, suave and full of harmony, with a nice finish on a fufdgy note.
Brut Audace will be an ideal companion for your apéritif and spring-summer parties. 
Pour COmmander ou consulter nos tarifs, connectez-vous avec vos identifiants.
Are you new ?
Please click here to join us.